AN IMMERSIVE SONIC MEDICINE AND SOMATIC THERAPY RETREAT
Sound, Music, Embodiment and Nature to access deep healing and insights, growth and expansion.
Thu Sept 28th – Sun Oct 1st 2023
Special promos through Aug 31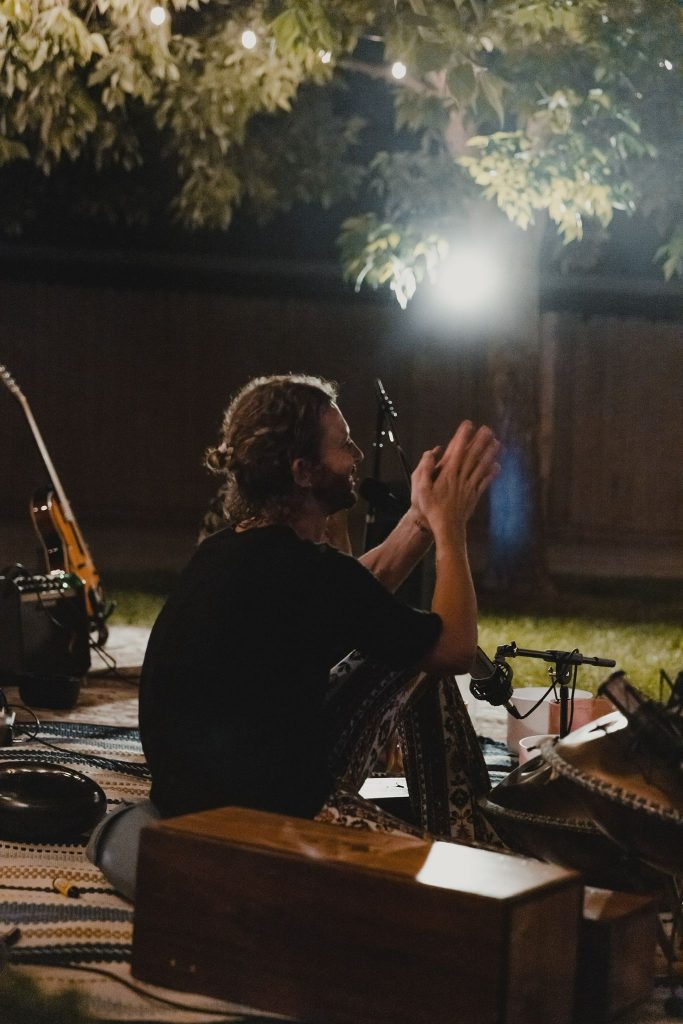 Sound Meditation, Music Therapy, and Shamanic Drumming
Using sound frequencies and vibration, the sound bath is an immersive experience in music and meditation. With his unique musical abilities and background, Justin creates a one-of-a-kind sound meditation experience. He has a special talent for handpans, wooden tongue drums, powerful skin drums, crystal bowls, tuning forks, gongs, and many more overtone-emitting soundscape instruments to create the space for profound relaxation, movement of stuck energies, healing and insights. Often collaborating with top-level musicians to incorporate string instruments like mandolin, viola, guitar, banjo and many more, along with vocal vibrational healing and icaros (medicine songs).
Justin has been a drummer for 27 years, but discovered his passion and distinct medicine with sound vibrations through the magic of tongue drums and hang drums. As a passionate researcher, Justin has collected years of study on the therapeutic and esoteric properties of sound from a variety of perspectives including Western scientific, Eastern philosophical, and shamanic societal beliefs. This has helped him to gain a deeper understanding of how, and to what extent, sound has been used to affect human consciousness. He has worked to gain experiences which lend a perspective that incorporates art, science, philosophy, and spirituality.
Justin is obsessed with soundwave frequencies, harmonics and overtones. He has spent years working extensively with cacao ceremonies, leading sound meditations, and playing live music with a variety of yoga and breathwork teachers. He is a member of an improvisational medicine music group, which is in the process of creating an album of original medicine songs and a recorded sound journey. Justin is passionate about investing his time, and energy in creating and holding space for personal healing and growth.
Drawing on ancient meditative and shamanic traditions as well as modern techniques, sound healing sessions are all about interacting with the body's natural frequencies to promote wellness, inner peace, and recovery.
An interactive experience designed to promote wellness, creativity, recovery, and self-discovery through interactions with music. Using a range of instruments and musical compositions, you can expect to both experiences the restorative power of music and stimulate your own creativity through live compositions of your own.
An immersive experience, the sound bath is all about surrounding you in the resonant frequencies that interact with your natural vibrations. Drawing on both modern scientific knowledge as well as ancient meditative and shamanic traditions, the sound bath can promote wellness, spiritual self-reflection, and recovery.
10 reviews on
Charisma McKinney
2023-04-20
I had the pleasure of experiencing a sound bath with Justin and it was by far one of my best experiences! He was patient and kind and radiates loving energy. I will definitely be recommending him to all my friends and family. I can't wait for the next event!
Abrielle Davies
2023-04-10
Justin is Hands down the most grounded person. His sound bath changed my sons life. I tell everyone to see him.
Our sound bath was a beautiful experience filled with intention. Justin is skilled at his craft and passionate about sharing it in a deeply meaningful way with others. The way he incorporated a variety of instruments really made for a dynamic and magical experience. Appreciated how he made space for setting personal intentions, card reading, and a focus on breath and energy work. We left feeling refreshed, relaxed, grounded, energized and aligned. My heart is full of gratitude?❤️Magical experience all around. Highly recommend!
Katie Schiffgen
2023-01-26
I met Justin at a yoga retreat. He was there as a guest. During our classes and meditations he graciously offered his intuitive gift of sound. I had done energy work and had been to sound baths or sound meditations before, but never had I experienced anything like this. My whole body responded in a way I had not known. I have since done one on one sessions on a number of occasions and have been to a few sound meditations as part of my trauma healing and self discovery journey. I had already been working with an EMDR specialist (and continue to do so) and Justin's talent and intuitive nature were the perfect compliment to the work I was and am doing. His work is special. His space is warm and friendly, clean and inviting. My experience summed up… it has felt like returning home to myself.
Kelley Crawford
2022-07-07
Justin is an amazing sound bath musician and uses some really awesome techniques that I truly feel helped me move some stuck energy, and understand what I needed to focus on for more healing and growth in my soul journey. I highly recommend Justin's services! You will feel renewed energy and a refreshed mindset for whatever it is that you are working through????♾?‍♀️
Christina Williams
2022-03-03
Justin is a very intuitive sound practitioner. I've attended many sound baths and his are by far my favorite. He has such a wide variety of instruments and each one brings a different healing vibration so you're able to relax and let the sounds take you on a journey. He takes his time with each soundbath/ceremony and really caters to each individual. Very professional, highly recommend.
Chandler Cagle
2021-11-18
Beautiful soul. I can't wait to have another sound bath experience with Justin ✨?
Justin has an incredibly powerful, yet gentle aura about him. He is also an extremely gifted artist and sound practitioner. His knowledge and use of so many beautiful instruments is what brings such power and depth to his work. Justin is highly intuitive, trustworthy, kind, and totally professional.